Product Packaging
Let Big Fish help your products stand out while helping your customers see key features and peak their interest at first glance. Our experienced design team has produced packaging from clam shells, header cards, hang tags, labeling, bags, boxes and more.
POP Point Of Purchase displays
Labels - hand applied or machine applied
Hang tags
Header cards
Box design
Plastic bags
Printed inserts
Illustration of exploded views
Creating instruction sheets
Clam shell design
QR code & bar code generation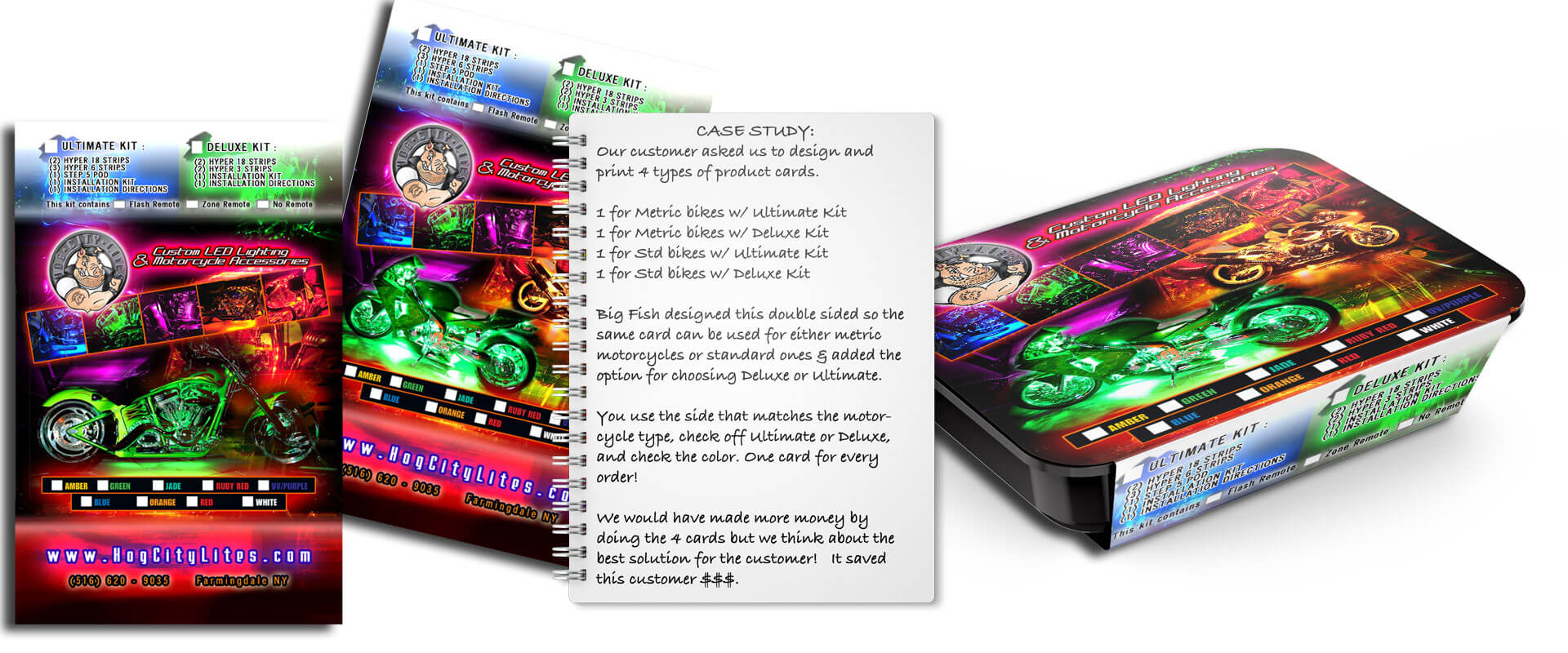 Product-Packaging-Hog-City-Lites-1920×800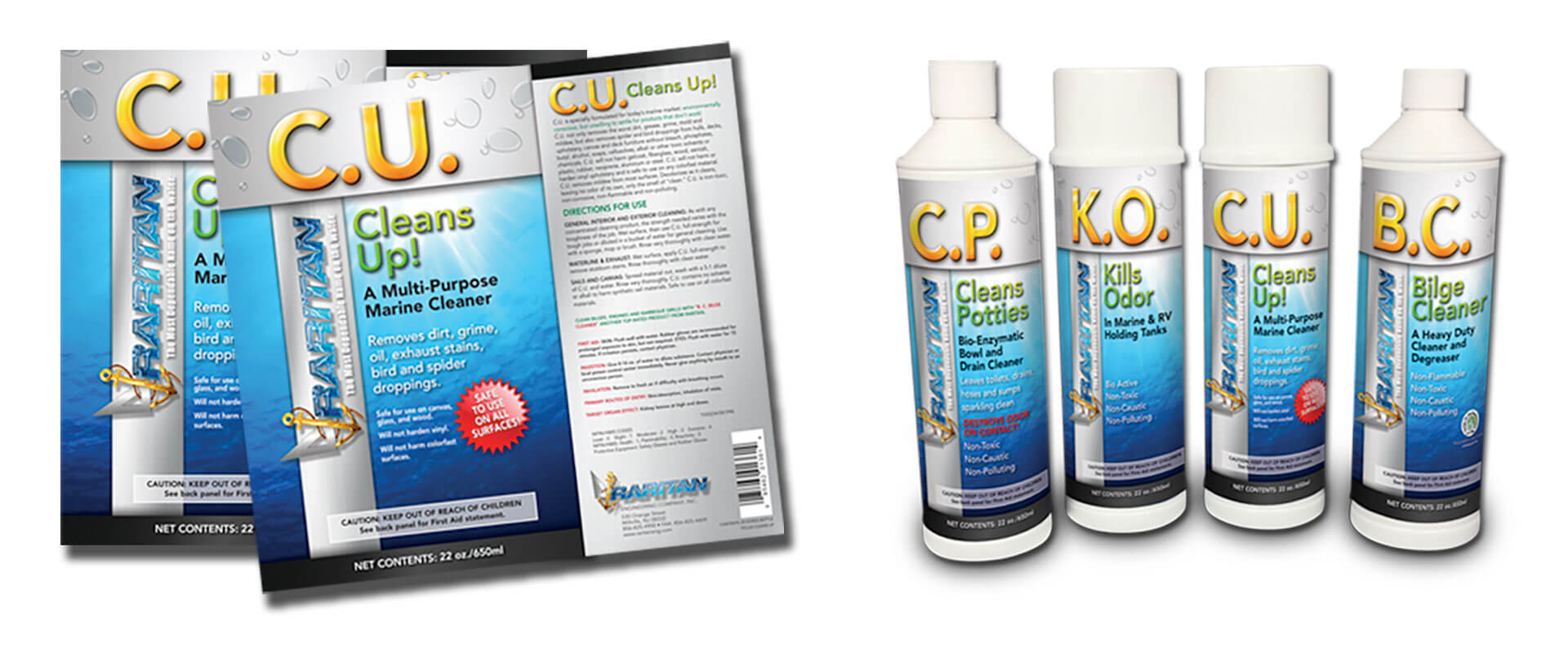 Product-Packaging-Raritan-Engineering-1920×800
Product-packaging-Raritan-Engineering-Box-1920×800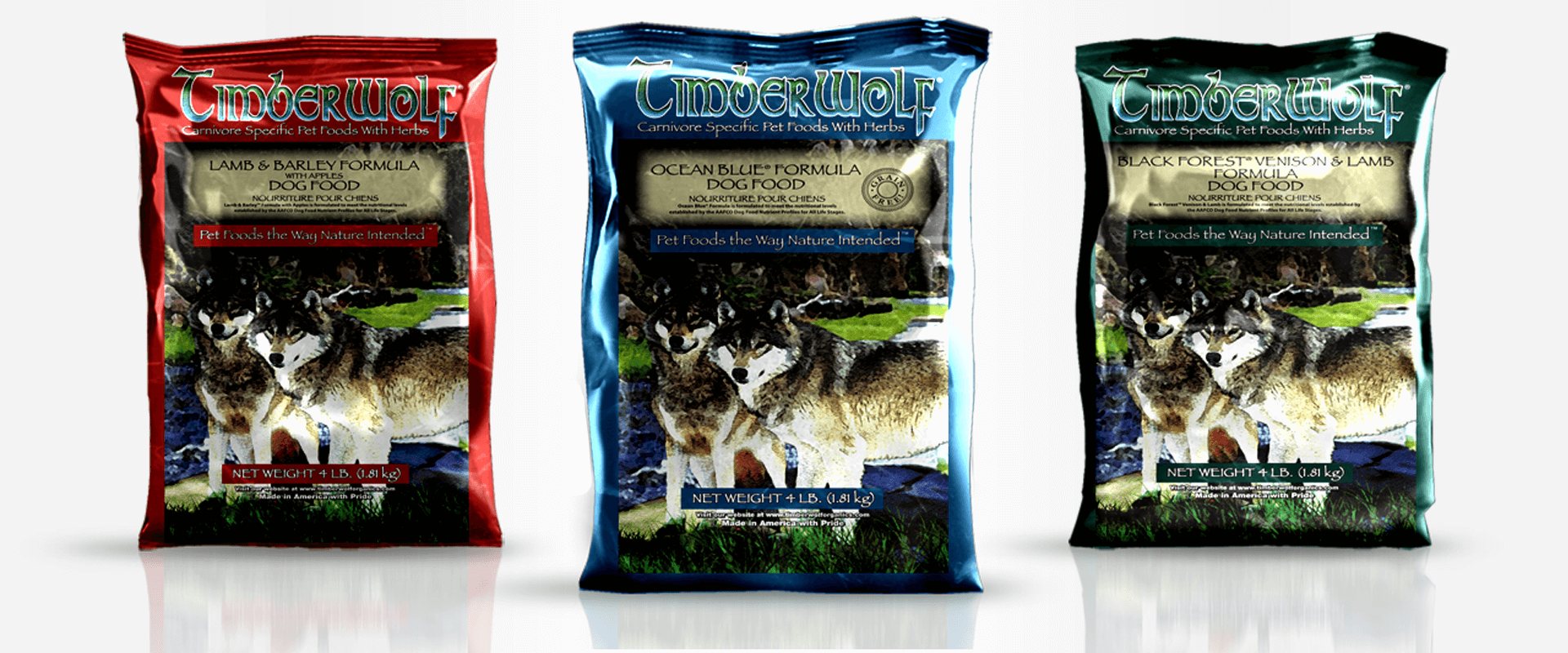 Product-Packaging-Timberwolf-Dog-Food-1920×800
Packaging Guidelines
Major retailers enforce strict packaging guidelines.
Going into a name brand store such AutoZone, Target, Bass Pro? Each store has its own specific shelving requirements. They will list how much space is allowed to use on their shelves. If the retailer is carrying your product as a private label, they require very strict guidelines on all packaging down to the colors, box thickness, color of product, part number and so on. Before you consider design or packaging, check with your distributors and retailers.
Need help on design?
Big Fish uses the most advanced software, plug-ins, and tried and true methods of marketing in the Automotive, Motorcycle, and
Boating industries. While anyone can create great looking designs, remember you want the most ROI or return for your investment. Targeting your market, reducing content, and maximizing your message is a skill. Just call us for free advice, ideas or help.
Case Study - Clam Shell Project
We had a customer selling LED lights. He had 4 different kits each with its own separate parts. These kits came in 5 different LED light colors. His customers owned either Harley-Davidson motorcycles or Honda motorcycles. So having the wrong image on the box would cost the company sales. Additionally, having both motorcycles on the same box had proven to be confusing as well.
Our clients solution:
He had designed clam shell inserts for each kit, 4 for Honda, 4 for Harley-Davidson. Then he placed one of 5 different stickers on the printed clam shell kits to indicate the color. This required that a variety of stickers and clam shell sizes be stocked at all times.
Big Fish solution:
First step:was to find out how to place the largest kit within the smallest clamshell design. This meant one clam shell design would fit all the kits. This reduced his clamshell inventory and kept packaging consistent.
Next, Big Fish designed a single insert printed on both sides. One side was for the Honda customers and the other for Harley-Davidson customers. The insert was scored so it would wrap around the inside of the clamshell from front to back and cover both top and bottom.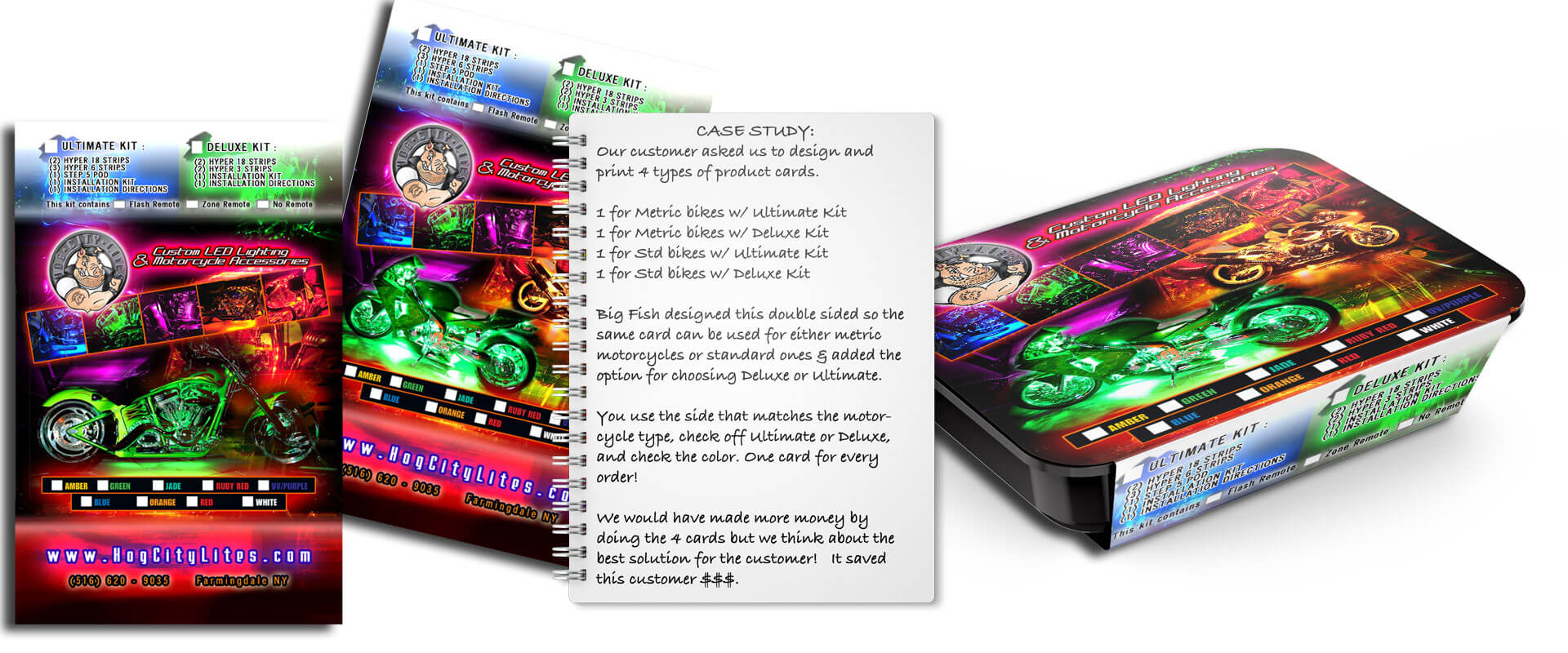 The Honda side listed the contents of all 4 kits. We listed all 5 colors the kits were available in on the same panel. We had several images of the product in use on one of the Honda motorcycles as background images.
The Big Fish design also incorporated check boxes beside each kit, and each color. This streamlined the packaging because all products fit into one clamshell, and only 1 printed insert worked for all of them. Our client simply checked the boxes beside the kit and the color and placed a small bar code in the outlined area to complete the packaging.
The Harley-Davidson side was designed exactly the same way. Depending on how you folded the insert was how you identified the product. This increased his sales by listing other color options and kits available. Big Fish had also drastically reduced his clam shell costs, time to fill and prepare the kits, print costs, and savings from less returns allowing him to net more profit with the Big Fish.
The customer increased his sales by listing all of the available color options and kits on one advertisement for that type motorcycle. He reduced assembly time of kits and inventory of packaging. Now he only required 1 clamshell and 1 clamshell insert. Decals were no longer needed to indicate colors. No extra set up fees for 8 different inserts like before. Buying 1 size clamshell and 1 insert printed on both sides allowed him to purchase in volume, and less inventory to manage.
The end result was MORE PROFIT!
Get A Free Consultation & Quote
Prefer to call?

We can't wait to discuss the details and get to know you better. Let's figure out the next step together.
Send us an Email

No time to chat? Shoot us an email with your details and we typically reply within a few hours.
Free Consultation

From design to print we can help provide the best solution for your needs. We enjoy sharing our knowledge of the industry.